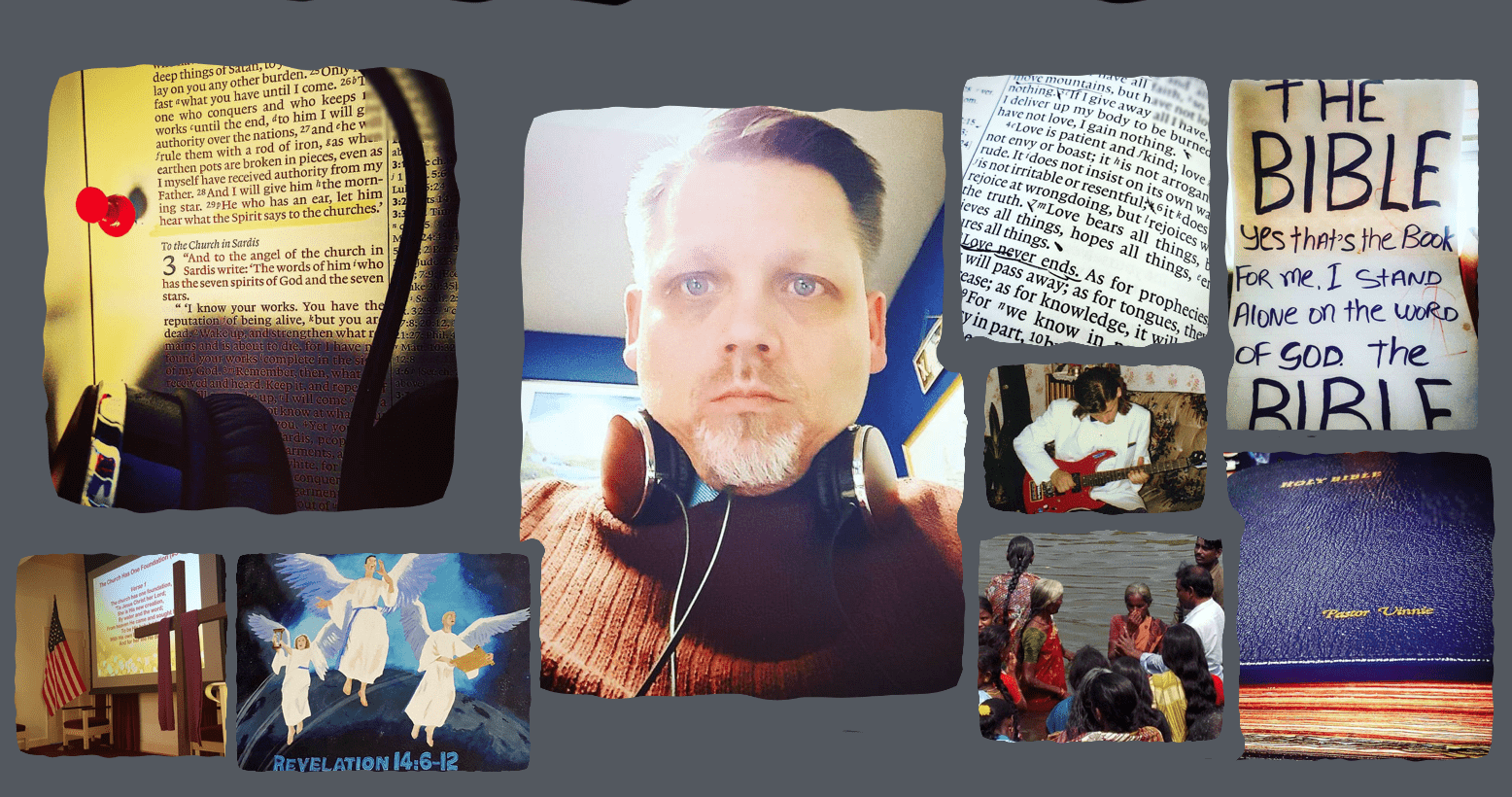 Vinnie MacIsaac
Child of God. Friend. Person. Husband. Work in progress. Daddy. Follower. Leader. Writer. Pastor. Sci-Junkie
My Personal Mission Statement: 
"I seek to take others along with me on my journey  to the Kingdom of God."
My Method:
Lead people to Christ

Lead people to the Church

Lead people the Mission

Lead people to lead other people to Christ (disciple)
My Personal Vision Statement:
"I refuse to see people as they are nor for where they are   in life.  Rather I choose to see them as the image of God  in which God seeks to restore them too.
Why this Simply Vinnie?
C

reativity is the mother of invention, or so the adage goes. However, if you ask me creativity is the key to the mind, heart, and soul. Jesus said, "Love the Lord your God with all your heart and with all your soul and with all your mind and with all your strength.'" (Mark 12:30). So for me, loving Jesus means creatively expressing His reality in my world which is this world-at-large.

On this site you will find classical theology, pragmatically applied theology, commentary on pop culture and current events, blogs, articles, books projects, fiction, pictures, and humor. And all of this is but a mere reflection of Jesus and me, and what He is like when He connects with my mind.I wish learning came easy to me, but the truth is, as much as I love to learn it has always been painstakingly hard for me. I stumbled upon an irrevocable truth that changed my world--teaching is the best way to learn. Some call me a pastor, counselor, even preacher, but the truth is I am but a simple teacher slowly unpacking complicated ideas to make them easier to digest! I teach the gospel so that I may further learn the Gospel. This blog is about my salvation and understanding as much as it is any readers! May you laugh, as you read my expressions of creativity here. May they bring you both joy and sorrow, focus and release, thought and perplexities, and above all peace in this world and hope in the next!
Vinnie's Bio:
I
was born in 1970 in Eastern Canada. I lived a simple rural Canadian life until I was 13 years old and my parents divorced. After being bounced around, I moved just outside of Toronto. I was thrust into a very urban and complex world, my teenage years were littered with existential problems that nearly crippled my future until two major life-changing events happen relatively close together 1) I went to college for Social Work and 2) I became a Christian. These were not isolated events in my life at all, but rather where a combined stream to sanity and meaning in my broken, battered life. It was shortly after that I met TinaLynn, and as I was embarking on a future with her as my wife, I also entered a career in Community Development and Mental Health casework, for the next ten years. Through a course of life events 1998 we moved to North Carolina, and Tina nursed and I engaged in church planting. Following that, we moved to Tennessee where I completed my BA in theology and after spending time district pastoring and completing my MA in Pastoral Care, I had the chance of a lifetime to reboot some struggling churches into the all new and amazing Solid Rock Seventh-day Adventist Church in Arlington VA, in the metro D.C. area! It was during this process, that we made community connections that led to the adopted our first son Jose. Life is great when you live it in Jesus!
---
Education:
Social Work : Sheridan College, Oakville, Ontario, Canada
Associate Degree (in the USA): Vance Granville Community College
Theology BA: Southern Adventist University (minor in Practical Theology and History)
Masters in Pastoral Ministry: Andrews Seminary
PhD: It's the dream! Anyone wanna fund me?
I Know What I Like:
Music: Bach, Chris Tomlin, Passenger, Springsteen, Van-Halen, Huey Lewis, all things 80's.
Movies: Stand By Me, Star Wars, MCU, all things Sci-fi
Books: Chronicles of Narnia, Good to Great, Do Androids Dream of Electric Sheep, all things C.S. Lewis
Television: Doctor Who, The Goldbergs, CW Superhero-verse, Brooklyn Nine-Nine, Top Chef, Friends, all things Classic TV
Guilty Pleasure:: Comic Books!!!